Dear Parents/Carers,

We are very much looking forward to welcoming more of our children back next week. You
should have either received a letter or had contact with your child's teacher regarding their
return and the days that your children will be in. Primary will be returning full time from
Thursday 11th March and Secondary will be in full time from Tuesday 16th March.
Below are the rotas for the initial return to school.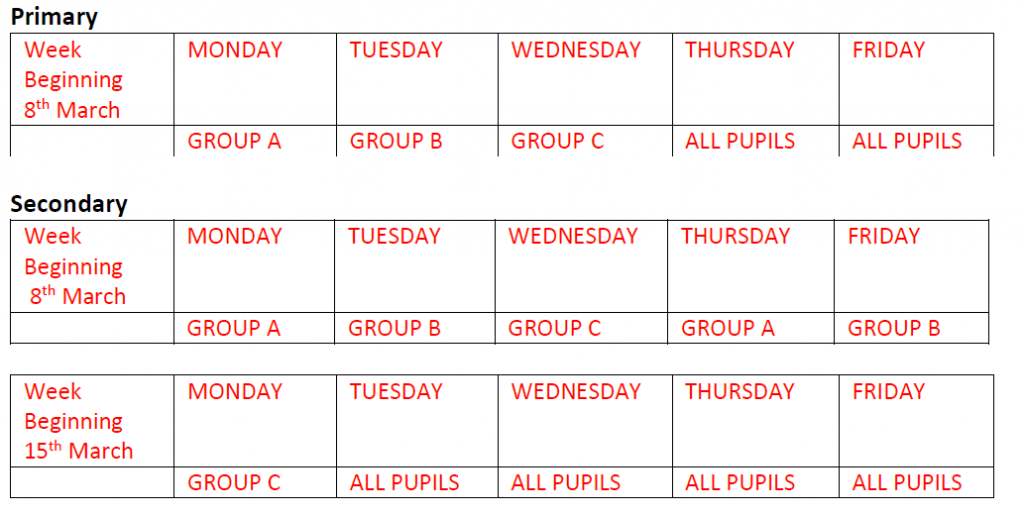 Should you have any questions, please contact your child's teacher in the first instance.

Testing of Students
I wrote to parents two weeks ago regarding Lateral Flow Tests for secondary pupils upon their
return to school. This is not compulsory and does not affect your child's attendance in school.
For those parents who have given permission, tests will be conducted next week with support
from the medical team. After the initial testing, parents will have the opportunity to continue
testing their children twice weekly at home. Home testing kits are available in school and
should you wish to access these (Secondary Only) please contact the school office.

Mr Sobti
Thank you to everyone who has passed on their best wishes to Mr Sobti's family at this difficult
time. The family have passed on their thanks to everyone who has been thinking of them.

And finally…
We know pupils have been working very hard whilst at home. The staff are very excited and
keen to see the work pupils have been doing. Please send in any completed work with your
child when they return to school that staff haven't already received.

Attached with this posting is the FAQ and a welcome back to pupil's which we have used
previously, that you may wish to go through with your child before they return next week.

There are 2 versions, one for Primary and one for Secondary.

Thank you once again for your support and I am very much looking forward to welcoming your
child to school. Should you have any questions, please do not hesitate to contact the school.

With very best wishes

Helen Ball
Headteacher
Primary Return to School Information March 2021